Mike's First Triathlon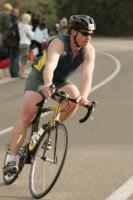 I figured I'd post some info regarding my first attempt at a triathlon.
But first, the thanks.
I have to thank my cousin Scott for getting me motivated to do this. His blog is here (he has a nice bike).
I also have to thank my brother in law Chris, because when he brought his Giant road bike down from San Francisco he let me test drive it and that eventually led to me getting a Giant to call my own.
I also have to thank Jim and Joe who have been putting up with me and keep getting me out on the bike almost every Saturday morning.
Finally, I have to thank Angie for watching over Paige so I can get out to ride/run/swim and allowing me to spend some money "investing in myself".
Some race info.
The Newport Beach triathlon was held on 4/20/08.
The distances were advertised as:
SWIM: 1/2 mile.
Flat water swim in the Back Bay of Newport Beach.
CYCLE: 15 miles.
Scenic course through Back Bay Drive and Eastbluff Drive.
RUN: 3 miles.
Fast and scenic out-and-back course.
I completed it, so I guess that makes me a tri-athlete. I was pretty happy with my finish, but I have room for improvement.
I was 8th out of 64 in my group (30-34 year men) and 83rd out of 354 men. Not too shabby.
The groups were sent off as follows:
6:45AM - Elite M & F, Men 29 and Under, Collegiate Men
6:53AM - Men 30-34, Men 50+
7:01AM - Men 35-39, Men 45-49
7:09AM - Men 40-44, Clydesdale
7:17AM - Women 30+, Collegiate F, Athena
7:25AM - WOMEN 29 & U, RELAYS
The full results are here if you'd like to see how fast some of these guys are. My number was 145 if you want to search for me.
Here are my results:
| Field | Value | Group Placement |
| --- | --- | --- |
| Time | 1:24:49.1 | 8/64 |
| Swim (0.5 mi) | 16:02.0 | 13/64 |
| Transition 1 | 2:24.6 | 21/64 |
| Bike (15 mi) | 43:19.1 | 5/64 |
| Transition 2 | 1:11.2 | 16/64 |
| Run (3 mi) | 21:52.4 | 16/64 |
Keep in mind the scale on this. The hills are by no means mountains, but you'll have to work to get up them. I recorded the course with my garmin GPS a couple weeks before the event.

Swimming
I was in the Men 30-34 group with 63 other guys, but 50+ also started with us so I'm not sure what the total 'herd' was at the beginning. It was a bit tough to navigate the water in the crowd, but I think my days of cross country running in high school helped because it was basically the same concept - try and relax and survive until it thins out. I can't swim in a straight line, but other than that I was ok. I rented a wetsuit and it kept me nice and warm. I don't have any pictures of the swim.
Transition 1
Upon leaving the water, I had to step up a small sand embankment (probably about 3 ft tall), then jog through the parking lot, around the fence, into the transition area, and through the transition area until I came to where my stuff was parked. I was wearing a chip around my ankle, and that is how the my times were kept. Whenever you enter or leave a transition area, you go over a mat that reads the chip and sends a signal to a computer to let it know. After leaving the beach, there was a girl with a hose that hit my feet with a blast of water to get most of the sand off.
I was slooow in transition area 1. I was paranoid that I was going to forget something. I pretty much took my time getting the wetsuit off, drying my feet, getting my socks and shoes on, putting on my helmet and glasses, getting a drink of water and setting off. I jogged my bike out of the transition area and past the line where you allowed to mount your bike. A lot of guys were doing some crazy run and jump on the bike which looked straight out of Little 500, but I took it safe. I just stopped, got on the bike got up to speed.
Bike
I felt good on the bike. I was still wet from getting out of the water. I wore these clothes under my wetsuit. They actually dry pretty fast, but they stayed wet from my perspiration.
I kept a pretty steady pace and slowly and steadily gobbled people up. The course was a two lap course with a nice little wall to be climbed one during each lap. I've been biking a lot over the last couple of years so I figured I'd do ok on this leg. I was hoping to stay near 22-24 and when I looked down at my bike computer it verified that I was holding speed. I think the hill and U-turns kept my speed down. I think I could have gone harder, but I was saving some up for the run. I liked the little climb and got by a lot of people on it and the steady rise that followed it. On my way down it the second time, I saw a bunch of riders starting to get caught up in a mob on it. I'm glad I didn't have to contend with that.
I have to admit that I came out around a turn a bit fast and overran the center dividing line. A guy coming at me almost messed his drawers. I calmly told him, "Sorry about that dude" and kept motoring. The course was a bit narrow and tight so I really couldn't go all out and had to pay attention to my surroundings. I had a cliff bar with me on the ride and I took a couple of bites during the second lap. It wasn't a lot but enough to keep a little something in my belly.
Transition 2
At the end of the ride, I braked at the dismount line. Some guy behind me didn't brake soon enough and came skidding over the line. I thought he was going to eat it. I smiled, ran into the transition area, found my spot, put the bike up, took off my helmet, took off my shoes, put on my shoes, put on my running number, grabbed a little drink and headed out.
Run
The part I dreaded was here. My legs didn't really want to run. I took small steps and tried to keep them moving. I just thought, 1.5 miles out and 1.5 miles back. No big deal. I was shooting for 7:30 minute miles so I just kept moving those legs. There was about 4 others leaving the transition at the same time as me. I tried not to fall back from them too much. I kept up my pace and I got passed by a couple of guys (and by some freaking little teenagers). When I got to the hill at the end I made pretty good time up it. I passed a couple of guys who were struggling on it. That cross country mentality helped me out. I made it up the hill, turned around and went back down it. I knew I was at the home stretch and the worst was behind me.
There is a bridge that crosses the bay and keeps it isolated from the boat slips and the rest of the bay that leads out to the ocean. On the way out, you run over the bridge and on the way back, you cross it as you near the finish line. I knew when I hit that bridge I was almost done.
I picked up the pace and caught up to the 62 year old guy who passed me about a mile and a half back right as I came up to the finish shoot. It felt good to be done, and all by about 8:15 in the morning. Time for breakfast in downtown HB with Angie and Paige!