Sunday, January 28th, 2007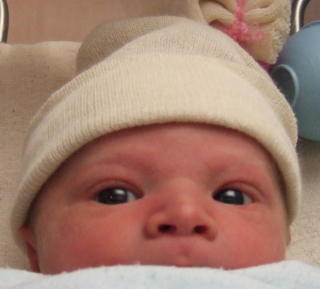 We're still trying to get our act together here for Dahmanator.com, but we wanted to get something up to announce baby Paige. She was born at 14:27 on Tuesday, January 22nd, 2007. The media guide has her listed at 7lbs, 6 ounces and 20″ in length.
You can view the first set of pictures on this shutterfly link.
Here is a little movie montage.
Here are some notes from Ang's email:
Paige was kind enough to wait until after Days of Our Lives was over before she started her grand entrance. 8 )
What a great daughter. HA!
(For those of you that don't know I have been watching Days at the ripe young age of 5)
I have been getting a lot of questions about my labor and delivery so here goes:
Week 36 check up: I was 3 cm dilated feeling no pain
Week 37 check up: I was 4 cm dilated and still feeling no pain
Week 38 check up: I was 4.5 cm dilated and again no pain
2 days before "due" date: 7 cm dilated and again…no pain
My Dr. didn't want me walking around at 7 cm dilated-hey what did I know, I've never had a baby before…so Mike and I went home, ate some breakfast, put some more things in my bag-said goodbye to all of the animals Mike and I went to the hospital where I walked myself into the Labor and Delivery room. (9:30am)
The nurses could not believe that I was already 7 cm and walking with my luggage down the hall. So I get in the bed and get hooked up to the machine where my contractions are being monitored along with the baby's heart beat. The nurse would ask if I felt that contraction and I would tell her "no". (I was busy watching tv and apparently they were some hard contractions) Around ½ hour after my water was broken things changed-I went from a zero on the pain scale to a 10 in a matter of minutes. After 4-5 really hard contractions I got my epidural and it was happy times. After 3 hours it was time to push and in about 25 minutes baby Paige was born!
She is a great little baby-she loves to sleep like her mom and we had to set an alarm to get her up for feedings. She is getting on to a schedule and mom and dad sneak in naps during the day to keep us on our toes.